The Hovercraft Collection DVD (£5; Duration 1h 9mins. Details)
The Concorde Collection DVD (£5; Duration 49 mins. Details)
Hovercraft and Concorde Collection DVD Bundle (£8.50; Duration 1h 9min + 49 mins. Details)
---
Shopping Cart provided by PayPal
Note: You do not need to be a member of PayPal, nor sign up to PayPal, to use this secure and fast checkout service. Please ensure your postal region is correctly selected from the list below, to make the delivery process as fast as possible. Item(s) will be processed for shipping as soon as payment is received. DVD(s) will be tested before posting to ensure quality. Please preview the videos on YouTube prior to purchase. Text and titles on the YouTube videos are different than on the DVD for presentation purposes, and the DVDs are in full quality, scene-selectable PAL (565i) format. I will email as soon as possible to confirm receipt of your purchase with a despatch estimate. Items are normally despatched within 3 working days, delivery time should be less than 2 working days for UK, 5 working days for EU and 10 working days for the rest of the world.
If you wish to buy the Hovercraft AND Concorde Collection DVDs together, please choose the third option "Hovercraft and Concorde DVD bundle" and save £1.50!!
Postage and packaging prices
United Kingdom = £4.00
Other Europe = £8.00
---
The Hovercraft Collection DVD
(£5; Duration 1h 9mins).
(from Videos Page. Click chapter names to expand contents).






This product is no longer available

Chapters and contents:
Flight deck of Swift across the English Channel

Brief look outside, boarding
Brief lookaround inside: Passenger cabin, Car deck
Cockpit: Pre-Engine start, engine start, Dover departure, Cruise, and Arrival at Calais
Outside: Arrival in Dover, Dover Hoverport Bus Service
Goodwin Sands trip with the Goodwin Sands Potholing Club

Boarding
Pre-flight brief
Departure
Arrival at The Goodwins
Look around the Sands
Games on the Sand: Throwing the Haggis, Tossing the Horseshoe
SRN4 Hovercraft Last Flights

Arrival of The Princess Anne in Dover (viewed from hoverport)
Departure from inside passenger cabin
Cruise from inside passenger cabin
Outside shots in Calais, arrival of The Princess Margeret and departure of The Princess Anne
Outside shot from Dover: Departure of The Princess Margaret
Inside the cockpit of The Princess Anne, departure from Calais
Passenger cabin arrival and disembarkation into Dover
Arrival and Departure of The Princess Anne (viewed from the Prince of Wales pier)
Arrival of The Princess Margaret
SRN4 Engineering Workshops

Arrival into engineering bay of The Princess Anne
Ground crew activity
Lifting on one engine for jack placement
Tour of insides of The Princess Margaret (undergoing maintenance): Rear, lift fan, engine room, electronics bay
Lifting The Princess Anne onto jacks: Jack control, lifting process, under-skirt walkaround, descent into the skirt
View from roof
Brief cockpit systems tour
Screenshots from this DVD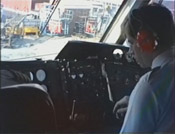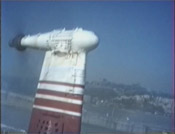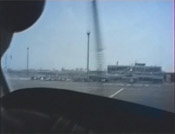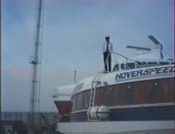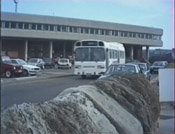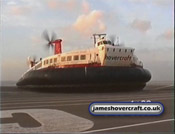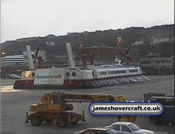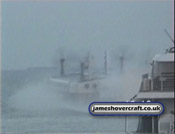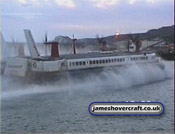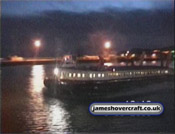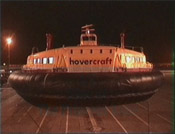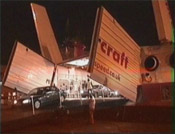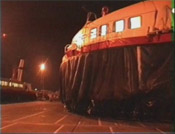 ---
The Concorde Collection DVD
(£5; Duration 49mins).
(from Concorde Tour; Click chapter names to expand contents).







This product is no longer available


Chapters and contents (click to expand):
Concorde Exterior Walkaround (G-BOAG)

Supersonic planes leak
BA engineering team workforce
History of Concorde fleet
Design of Concorde (incl. delta wings & droop nose)
Pitot heads and temperature probes
Nose landing gear
Hold compartments
Fuel tanks & the kevlar lining
Engines and convergent-divergent intake ducts
Afterburners & supercruise
Thrust reversers & noise abatement
Rear tailcone & tailwheel
Control surfaces (elevons & rudder)
The probable happenings of the Paris air crash
Cockpit Tour

Instruments walkthrough
Aircraft handling
Autopilots
Aircraft systems & features
Emergency procedures
Cabin tour

Internal aircraft electronics & analogue computers
Testing new seats
Aircraft flight data recorders
Engineering doors vs Passenger doors
Ground manoeuvres

Inside Concorde under tow from the pilot's seat
Location of the nosewheel towtruck
G-BOAC being towed
Parking

Screenshots from this DVD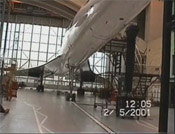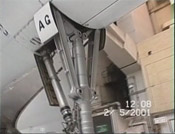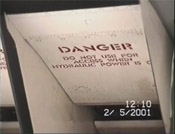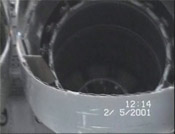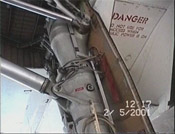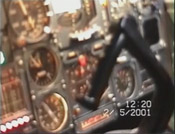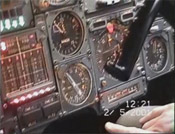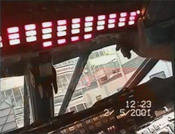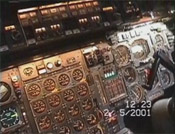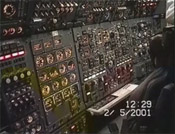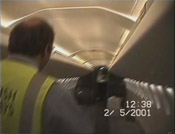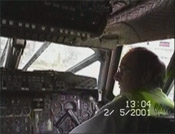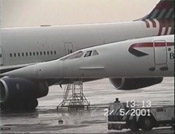 ---
Hovercraft and Concorde Collections DVD Bundle
(£8.50; Duration 1h 9mins + 49mins).

This product is no longer available
Page updated: 27/02/2020